OUR ENVIRONMENTAL & SOCIAL SUSTAINABILITY POLICY
3 Rivers & Rosalie Forest Eco Lodge is situated in an environment of outstanding natural beauty.
The Eco Lodge is set in the heart of Rosalie rainforest, surrounded by clean rivers and jungle trails, leading to stunning waterfalls and lakes, and on the edge of the Morne Trois Pitons National Park World Heritage Site.
One of our most fundamental aims is to live in harmony with, and have as little harmful impact on, those surroundings as possible. We recognize that our business has an important role to play in protecting and enhancing the environment for guests and the residents of the local community.
In keeping with this goal, every aspect of the project has the environment in mind. We espouse a sustainable lifestyle, minimizing our consumption of all resources, using renewable energy, and monitoring all systems. We compost all kitchen and garden waste, try to avoid purchasing packaged goods, shop locally, recycle and use biodegradable products, and strive to keep our waste products to a minimum.
An important aspect of this policy is to involve the local community.. Our employees come from local villages, and we train them in sustainable living. We are trying to showcase environmentally sound practices, hosting free school visits and giving guided tours and workshops, to all interested parties, explaining renewable energy, organic farming, and the sustainable lifestyle in general, as well as being involved in various local community projects.
We aim to comply fully with, and go beyond, all environmental laws and regulations, to review our policy and practices annually and to communicate relevant information to all interested parties, from guests and locals up to government officials. We hope we can help Dominica retain its still relatively unspoilt environment, and move into a greener future.
"We are proud members of Pack for a Purpose, an initiative that allows travelers like you to make a lasting impact in the community at your travel destination. If you save just a few kilos of space in your suitcase and take supplies for the Grand Fond Preschool and Castle Bruce Secondary School, you'll make a priceless impact in the lives of our local children and families. Please CLICK HERE to see what supplies are needed for our project/projects."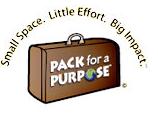 As a proud member of pack for a purpose, we encourage all guests to donate small items to our worthwhile community cause
SUMMARY OF OUR ENVIRONMENTAL WORK :
The eco work began from the start, reclaiming spoiled land which had been destroyed by chemicals used by the banana farmer whom I bought the land from.
Composting began on day 1 and continues today, with the use of a rotating four bin composting system.
All soaps, washing liquids and cleaning products are eco friendly and biodegradable.
We use no chemicals whatsoever on land or anywhere else.
All of our electricity is a wind and solar combination system.
We pump our water supply from one of the pristine rivers bordering our land, using a solar powered pump, which works in silence to avoid disturbing the surrounding natural habitats.
We separate all garbage and compost everything, helping our gardens flourish.
We have recycle as much as possible, including a damaged water tank for use as an eco shower unit, and a converted shipping container for our office.
We employ local people.
We offer community based activities where guests get a true taste of village life … and villagers earn a few dollars !
We sponsor one of the local village bands and showcase them here, at 3 Rivers, occasionally.
We helped create a new village library using books donated by our guests, installed the electricity for them and donated all necessary supplies for that job.
We run environment education workshops for local people and tourists on solar hot water heating systems, organic farming, and general renewable energy usage.
We offer free eco educational tours of the lodge for all schools in Dominica and have already hosted a large number of schools.
We have produced a basic ecotourism educational book on all of our eco systems for our guest in order to increase their environmental awareness.
We have a package deal where all of the activities involve learning about local village life, and each activity is held in the village and is run by the villagers who receive a fair income for their efforts, and our guests get a true taste for village life.
As well as an eco learning package offering workshops in all forms of renewable energy
Our grey water passes through grease traps, which are changed daily to help our compost system and protect our waste water leachfield soakaways.
We monitor our water, electricity, gas, solid waste and paper consumption, and aim to continuously reduce our usage to protect the environment.
We use state of the art composting toilets in the tree houses.
Our camping facilities include a composting pit toilet.
Computer Mission dominica – 200 computers installed in schools and workshops on maintenance held at each school
Grand Fond Pre school Scholarship fund
The schools visit us for free to get an eco education tour.
Peace, Love, & Travel with Cliff and Tiff
Cliff Barre, a responsible, green tourist with a blog called Peace Love & Travel, with Cliff & Tiff. wants a chance to speak with our readers about the idea of environmentally responsible tourism as it's applied in modern day travel and stay. Click here to read PDF article